Essential Property Market Briefing
The Property Market Is Already Changing.
Smart investors are already "cherry picking" the best investment properties.
Learn what they're buying, and how you can capitalise on this rare market opportunity.
Big changes in the property market mean big opportunities for smart investors!
There have been HUGE CHANGES affecting the property market over the last 3 months...
INTEREST RATES HAVE BEEN

CUT

- not once, but twice - with more cuts on the way
KEY LENDING RESTRICTIONS HAVE BEEN

LIFTED

– giving more borrowing power to more home buyers and investors
Proposed changes to negative gearing and CGT are

off the table – REMOVING uncertainties from the market
TAX CUTS,

new

first home buyer INCENTIVES and government spending initiatives

are on the way
AUCTION CLEARANCE RATES ARE

RISING

- with Sydney and Melbourne achieving clearance rates above 70% in the last few weeks
PROPERTY PRICES HAVE

STABILISED

and are even showing signs of

LIFTING AGAIN

in many suburbs
With all these changes, the essential question is: HAS THE MARKET ALREADY TURNED?
Will REAL ESTATE VALUES NOW RISE or fall over the year ahead… and is it the right time to be in or out of the market?
How are YOU going to manage the NEXT PHASE in the property market?
Make no mistake... The property market is changing rapidly.
Fortunes will be made and lost in the next 2 years as a NEW PHASE in the property market takes hold.
Those who are educated and prepared stand to make substantial profits…
…while those who sit by, paralysed by uncertainty, will miss out on one of the greatest redistributions of wealth in recent history!
Those with the best information will have an "unfair advantage"…
Being well-informed about the FACTS - rather than falling victim to media hype, conjecture and opinion - will enable you to secure exceptional property deals in the current market (while avoiding the duds).

At this special evening briefing you'll receive the LATEST FACT-BASED RESEARCH on the local property market - and where it's headed.
You'll also receive EXCLUSIVE EXPERT INSIGHTS on TWO AREAS IN YOUR STATE THAT ARE SET TO BOOM …that most investors don't know about - yet!
PLUS you'll get practical insights on how smart property investors are using proven strategies for CREATING WEALTH AND BUILDING EQUITY - even in a slower market.
Come along an enjoy a relaxed evening featuring some of the most informative, hype-free, and practical property market information you'll get anywhere – designed to make a genuine difference to your investing success!
Everyday Investors. Extraordinary Success.
"With over 4.3 million dollars in profit generated… the lifestyle I've got and how I can provide for my family is very, very different from what it was!"
James M, SA
"This has really changed my life! I'm no longer an employee. I do the things that interest me... I just love it - it's fantastic!"
Adam B., WA
"Since implementing the strategies we learnt at Results Mentoring, we were able to quit our jobs at age 28. Our portfolio is now over 100 units!"
Kevin & Daniella, VIC
In just 2 hours, you'll discover:

Why RIGHT NOW is the BEST TIME in a long time to be in the property market!
Cut through the hype, fearmongering and misinformation in the media to get the FACTS on how the local property market is forecast to perform over the next year and beyond.
Changing market conditions create big opportunities for those in the know... Get the latest research and insights on the market to dispel the confusion so you can make better investing decisions and maximise your profits.

Systems to CREATE YOUR OWN CAPITAL GROWTH
Smart investors know how use active value-adding strategies like renovation to create more capital growth from the same property – even when the market is slower.
Just one of the success secrets you'll be trained in is our "33% rule" - a simple technique that reveals whether adding value to a property will be profitable, before you buy it!

Two Specific Areas set to BOOM! (… and which areas to avoid like the plague!)
By the time you read about a 'boom' suburb in a magazine, it's too late - the capital growth has already happened, and the best opportunities have already been picked over by other investors.
Well, here's your opportunity to turn the tables and get an unfair advantage yourself...
As an exclusive bonus just for attendees, you'll receive expert insights on TWO SPECIFIC AREAS in the State that are set to outperform the market over the next couple of years – and that most property investors don't even know about… yet!
These hidden boom locations will be REVEALED FIRST AT THIS EXCLUSIVE BRIEFING. We won't be publishing them afterwards, so you must attend to find out where they are!
You'll also learn about the areas you need to avoid like the plague. (If you hold property in these areas, you need to get out fast!)

How to tell if YOUR suburb is set to BOOM or CRASH!
Discover the ONLY effective way to predict the property market with consistency and accuracy. Unlike most property market forecasts, this doesn't rely on guesswork or luck!
It's the secret science the best property market experts use to know which way property prices in a suburb are about to move, so that you can 'time' your entry (and exit) with incredible accuracy.
Discover why the market goes up in some areas at the same time others are going down, so that you'll know where and when to invest. You'll learn a simple but little-known test that tells you in moments whether a suburb has great potential for rapid price growth or should be avoided at all costs.
Use this test to check for warning signs in suburbs where you already own property, and to tell before you buy your next property whether the suburb is more likely to rise or fall in value over the coming months!

The secrets to making POSITIVE CASHFLOW in today's property market!
"Cashflow is King" when it comes to achieving financial freedom through property - not to mention making it easier to get finance to keep growing your portfolio.
Learn the secret to finding affordable positive cashflow properties TODAY - without the need for any special tools or expensive software packages!

How to MAXIMISE your access to finance in the next 3 months!
Over the last three years Australia's regulators have forced the banks to tighten up on lending to investors - leaving many investors confused, frustrated, and "stuck".
But this is mainly a problem for those who don't understand the recent changes in lending, and therefore don't know what to do about them...
We'll show you how your ability to access finance may have just IMPROVED, and the simple steps you can take in the next 3 months to make getting finance a whole lot EASIER!
Everyday Investors. Extraordinary Success.
"I have achieved the ability to live off property! My skills have allowed me to earn a 7-figure income. Results Mentoring has given me a new life. I'm free!"
Jason E, QLD
"I don't have a day job anymore - so our property investing fully supports our life and has really replaced my income."
Axel P, NSW
"I was able to leave my job, and now I do property investing and developing full time. It's a great feeling!"
Zoltan C, VIC
Who Will This Workshop Benefit Most?
You'll get the most from this special evening event if you are willing and able to take action to implement the information, strategies and techniques that you'll be taught.
As such, this event is for you if:

You have savings of $40,000+ OR equity in your own home or other investment property

You are currently in regular paid employment or self-employed with an income of $80,000+

You have made a conscious decision to create a better life for yourself and your family, and you see property as the investing strategy to achieve this

You want greater clarity about today's market in order to make better investing decisions, avoid costly mistakes, and build a profitable property portfolio

You are an action-taker (and willing to apply what you'll learn)
Who is this evening event NOT for?

Those looking for a "get rich quick" scheme should stay away. As should anyone who believes that substantial wealth can be created without any real application of effort.
If poor financial discipline is the reason you're not getting ahead, then don't expect a "silver bullet" to solve bad financial habits ...although if you're open-minded and prepared to change, then we'll provide tools and techniques that can help.
But if you're not willing to take on new ideas, then this unique event isn't for you.

You plan to buy an investment property or your own home within the next 12 months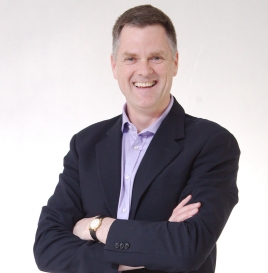 With a breadth of property investing experience spanning 20 years, Brendan's expertise covers a multitude of investing strategies including growth properties, renovations, positive cash flow, industrial properties and multi-million-dollar property development.
Brendan supports like-minded property investors as a Director of
the RESULTS Mentoring Program - Australia's leading and most comprehensive Property Investing Mentoring Program, helping thousands of property investors make better buying decisions and achieve more secure financial futures.
In recent years, understanding the value of being able to read individual property markets when making buying and selling decisions, Brendan co-founded Property Predictions, a leading independent property market analysis organisation. This organisation offers property investors unique insights into the thousands of property markets across the country, and has historically been 90% accurate in forecasting the direction of suburb median price movement.
Brendan co-wrote "The Real Deal: Property Invest Your Way to Financial Freedom", published by Wright Books. He writes articles in Your Investment Property magazine and other property media, offering expert insights into the Australian property market and the most appropriate property investing strategies for today.

Don't worry - we're 100% independent of any buyer's agent or real estate agent, and have no affiliation with any off-the-plan property developer. We pride ourselves on operating with the highest level of integrity.
What's more, as one of the few property educators with membership in the Property Investment Professionals of Australia (PIPA) Association, we subscribe to a strict Code of Conduct requiring a commitment to education, disclosure, and honest practice.
Who Are We... And Why Should You Listen To Us?
For over a decade, the Results Mentoring team has been helping Australians to achieve incredible profits from property investing.
In fact, we took out the top prize in our Best Mentor/Educator category in the only ever Investors Choice Awards - run in 2015 by Sterling Publishing (publishers of Smart Property Investment magazine and Which Investment Property), which saw over 7,000 votes cast.
We're not your typical property 'gurus'. In fact, our goal has always been to provide the latest education, support and tools to help property investors succeed. Not to sell you overpriced properties and 'get rich quick' seminars.
In fact, here are 11 REASONS why we're different to all the other so-called property investing experts on the seminar circuit today ...
We'll never try to sell you a property. We are not associated with any off-the-plan developer, real estate agent or buyers agent. We have no vested interest in promoting any specific property or location. (There's a massive conflict of interest when someone says they'll "educate" you but actually makes money from you buying one of their pre-selected properties.)
We're ACTIVE property investors who are in the market RIGHT NOW, practicing what we preach ...doing everything from low-money-down deals, positive cash flow deals, small-scale developments, right up to multi-million dollar apartment buildings! We're not academics or 'once-upon-a-time' investors teaching what used to work. We'll show you the profit making strategies that we're using in the market to make money TODAY.

EXPERIENCE across multiple property investing strategies. We know there's no "one-size-fits-all" property investing strategy. The investing strategy that's right for you might not be the same as the one for the person sitting next to you. Our experience across residential capital growth properties, positive cash flow, renovation, subdivision, property development, commercial property, overseas investing and more enables us to mentor you on the strategies most applicable to your interests and personal circumstances.

We deliver unrivaled 1-on-1 mentoring, in-depth practical information, and leading edge resources for property investors at all levels of experience.

We've trained thousands of people, and personally mentored more than 2,000 members over the past 12 years in real world techniques to create significant profits through property.

Our members take action, and have bought over $456M of property (at cost) over the last nine years on their journeys towards financial freedom.
We teach easy to use, step-by-step Sustainable Property Investing Systems to help property investors maximise profits and create multi-property portfolios… without the risks of long-term "buy and hold" strategies.

We provide in-depth actionable education on all property investing strategies to help our clients make money under any market conditions.

We teach practical techniques to identify the profit in a deal before you sign any contract of sale. Not "gut feel" or guesswork.

We've created a unique community of like-minded investors providing exceptional opportunities to receive real-world support and form lasting business relationships.

INTEGRITY. As one of the few property educators who are members of the Property Investment Professionals of Australia (PIPA) Association, we subscribe to a strict code of ethics and disclosure. (If you're considering any form of property education, ask if the provider is a member of PIPA and subscribes to the Association's Code of Conduct. If not, you have to question why?)
Sydney, NSW - Tuesday, 6 August
SMC Conference & Function Centre
66 Goulburn St, Sydney
Parramatta, NSW - Wednesday, 7 August
Novotel Parramatta
350 Church St, Parramatta
Newcastle, NSW - Thursday, 8 August
Merewether Surf Club
cnr Watkins St & John Pde, Merewether
Chadstone, VIC - Monday, 12 August
Matthew Flinders Hotel
667 Warrigal Rd, Chadstone
Essendon, VIC - Tuesday, 13 August
Cross Keys Hotel
350 Pascoe Vale Rd, Essendon
Melbourne, VIC - Wednesday, 14 August
Seasons Botanic Gardens
348 St Kilda Rd, Melbourne
Please know that information about our products and services, including the opportunity to participate in the award-winning Results Mentoring Program, will be made available at the end of the evening should you wish to continue your learning with our support to accelerate your property investing.
© Copyright Results Mentoring Pty Ltd. All rights reserved. This free resource is provided by Results Mentoring Pty Ltd (ACN 116 115 667).
Please Note: No remuneration has been offered to any students in return for appearing in the videos on this page and sharing their story or providing written testimonials. These are the students' stories in their own words. Comments relating to profits, timing and transaction details have not been verified by Results Mentoring. As property market conditions and individual circumstances are constantly changing, investment income, values and equity positions may also change on a daily basis. Past performance is not indicative of future results, and property investing outcomes may vary depending on the individual's goals, financial situation or other circumstances. All investing entails risk, including the risk of financial loss.
Results Mentoring Pty Ltd does not hold an Australian Financial Services License and does not purport to offer or provide financial advice. The information contained in this website and related events, videos, audio files, e-newsletters or other materials does not constitute specific financial, accounting, tax, legal or other similar type advice. We strongly recommend that you liaise with your own financial, legal, accounting and other advisers to ensure that the concepts contained herein can be tailored to your specific needs. Results Mentoring Pty Ltd does not accept liability for any loss, damage or expense incurred by you if you rely on or utilise any of the methods, techniques or ideas discussed within this resource, website or related materials.